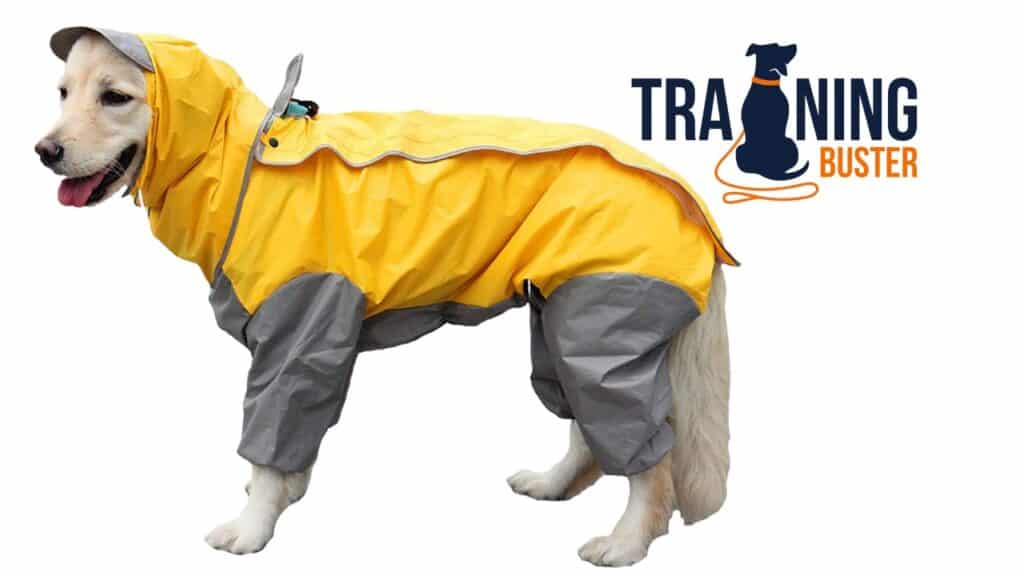 Your Golden Retriever has a beautiful natural coat, that does keep them somewhat dry when you go out for those drizzly, rainy winter walks.
But then when you bring your pooch home, you have to bathe them, right? And bathing a Golden Retriever every day isn't so good for their health.
So investing in a good, waterproof raincoat is a wise idea, to prevent the odor of wet dogs from becoming a permanent feature in your home. But what makes the best raincoat for a Golden Retriever?
What features does this pooch prefer, and what features do they need? This topic is what we're now going to explore:
GabeFish Pets Raincoat for Small Medium Large Dogs
[amazon table="2355″]
Built to completely protect your Golden pooch from nose to tail, GabeFish's Pets Raincoat has several unique, positive features that I think you will love.
First of all, this doggy raincoat fastens along your Golden Retriever's back, meaning that you will find it very easy to put on, and your Golden Retriever will find it easy to step into.
As well as this, GabePet's pooch raincoat also features a leash hole, so that you can still easily attach your leash to your Golden Retriever's favorite collar.
Even though it covers the underbody well it still leaves an adequate gap for your pooch to relieve himself when the need arises.
On top of this, with four full-length sleeves for your pooch, your Golden Retriever will stay nice and clean all over – no more bathing after every walk!
GabePet's coat for dogs even has a proper dog's hood with a peaked cap, to shield your Golden Retriever's eyes from the rain. This peaked hood does not blow down, even in gale-force winds!
This is a highly visible coat, available in many different designs that your Golden Retriever will be easy to spot in.
It is available in various bright plain colors, and feminine colors, as well as a few styles of camouflage designs, too, if your Golden Retriever is the type of dog who likes to roll around in mud or play hide and seek in the bushes.
NACOCO Large Dog Raincoat
[amazon table="2357″]
This large dog raincoat is somewhat visually similar to our previous coat. But, it has lots of unique features that our previous coat does not have. So, what are some of these features? Let's check this coat out:
First of all, as you may have noticed, this coat has reflective strips. This makes it one of the safest coats out there that your Golden Retriever can wear.
Not only this, this coat has a neck warmer function. This part can be pulled tight with the drawstrings to keep your Golden Retriever nice and snug.
However, there's also a large pocket on the back of this coat, for you to store your Golden Retriever's treats, poo bags, or toys.
Nacoco's coats are also available in a range of bright colors that lend good visibility, as well as two camo colors if you are interested in going camping or mantrailing with your Golden Retriever.
Lucy & Co. Reversible Raincoat for Dogs
[amazon table="2359″]
But this is a truly unique coat! Lucy & Co's dog coats for Golden Retrievers are made from sturdy nylon fabric, that completely prevents any moisture from seeping into their coat.
The nylon fabric Lucy and Co's coats are made from is also extremely lightweight, meaning that the coat is easy and comfortable for your Golden Retriever to wear, as well as for you to put on your Golden Retriever, and to carry.
This coat also has a generous leash hole, with which you can walk your Golden Retriever just like normal.
But there is one unusual thing about this coat. Well, Lucy and Co's coats for Golden Retrievers are reversible, meaning that you can turn them inside out, depending on which pattern you want your Golden Retriever to show to the world (or if one side gets dirty).
LIBOYUJU Big Dog Raincoat
[amazon table="2360″]
Or maybe you don't want to cover up your Golden Retriever's beautiful natural coat, but you do want to provide them with some good protection from the rainy weather? If this is so, Liboyuju's big dog raincoat for Golden Retrievers is perfect.
This is because Liboyuju's big dog raincoat is made almost entirely of a clear TPU plastic material, tinted black with a camouflage panel down your Golden Retriever's back and on their neck.
Besides this, Liboyuju's raincoats provide protection from the elements for your Golden Retriever's legs and neck while leaving their tail sticking out.
This is much like a few of the other raincoats for Golden Retrievers, on our list. It offers a comfortable gap for urination, too.
So if you want a comfortable, transparent coat that will help to show off your Golden Retriever's natural beauty, this is a good option to go for.
It is so light to carry that you can have in your backpack on your outing and just put it on your pooch to protect him from any shower you get caught in.
Warm Dog Coat Reflective Dog Winter Jacket
[amazon table="2363″]
Perhaps your Golden Retriever prefers to be warm all the time, and maybe they won't even set a foot out of the door for their walk if they aren't comfortable and warm? Then Qbleev's warm dog coat is perfect for your pooch.
Sure, it doesn't provide much warmth for your Golden Retriever's legs, tail, or head. But what it lacks in this way, it makes up for with thick, warming fleece throughout.
Want to maximize your Golden Retriever's warmth? Just fasten the two comfortable hidden elastic bands securely around your Golden Retriever's hind legs so that no rain or snow can seep in.
Qbleev's warm dog coat also has thick, bright reflective strips throughout the coat's body, to keep your Golden Retriever safe and secure when walking close to traffic in dark conditions.
But in the daytime, the range of bright colors in which Qbleev's coats are available should also help to keep your Golden Retriever safe, too.
Hotumn Dog Raincoat Waterproof Pet Raining Jacket
[amazon table="2364″]
Want a light dog coat, that your Golden Retriever can wear during those light showers or constant drizzles, with good protection from the rain that covers your Golden Retriever's entire back? Look no further than Hotumn's waterproof dog raincoat.
Hotumn's dog raincoat fastens securely using only a single velcro strap, so it is a simple raincoat for your Golden Retriever to just walk into. But if you want a more secure fit, use the single tail elastic to hold the whole coat securely in place.
If you need to adjust the size to make this coat more secure or keep it loose the velcro straps help you to easily and quickly adjust this doggy raincoat's size so that it can fit your Golden Retriever perfectly.
Sometimes when you put the hood up on some other raincoats for pooches, your Golden Retriever's vision would get blocked. This creates a hazard because it is difficult for your Golden Retriever to see where they are going. They may walk into an obstacle, or even walk right out onto the road.
But with Hotumn's waterproof dog raincoat, the transparent EVA cap on the rim of the coat's hood means that your Golden Retriever will have a full range of vision, and be able to clearly see where they are going.
Not only this – when you are done with the coat, usually you have to put the wet object into your pocket or bag to carry it all the way home. But with Hotumn's coat, you simply fold it up into the small pocket on the coat's back.
Here more post you may be interested in