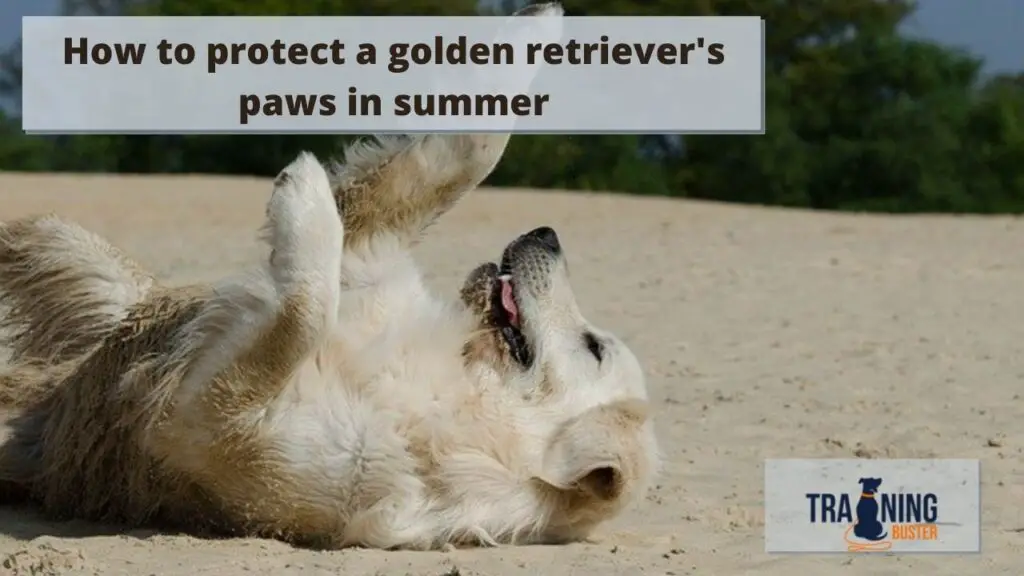 How to protect a golden retriever's paws in summer is important for your dog's health.
I have been trying to find a way to look after my dog's paws on walks in the summer. And I have been researching online for a while now and wanted to share my findings with you. What I recommend in this article is what I use and it works for me.
The quick answer is:
Walk your dog mornings and evenings, Don't walk in the midday heat. Regular paw cleaning after walks. Keep your dog's nails trimmed and remove long hair around the paws. Use paw protection wax and dog shoes when walking on rough ground.
Dog paws are made up of five parts. The claws, digital pads (the toes), the metacarpal pad (the pad in the middle), the dewclaw and the carpal pad (the pad farthest back). There are many ways to help protect your dog's paws and we will tell you how in this article.
But first, here are my top must-haves for protecting your golden retriever's paws in summer
Checking the health of your golden retriever's paws in hot weather
It is best to have a weekly check on the health of your dog's paws. The easiest way I have found is to first clean of any dirt off and if there is any long hair near the paws trim it back.
Look between there toes and around the pads for small stones, Burns for sores. Then take a good look to make sure the dewclaw has no damage, as they can easily get snagged on things.
Cut their nails when needed. you can get a good pair on Amazon. I have found the pair I have and you can find them here. If you are nervous about cutting your dog's nails then you can use a nail grooming & grinding Tool, Here are some amazon customer reviews on the one I like.
What can I do to protect my golden retriever's paws in the summer months?
My number one recommendation is to not to walk in the midday heat. If you do take a walk the best time is early morning or in the evening.
walk in the shade or on the grass, as the sidewalk might still be hot in the evening. I have written an article called, What Temperatures Are Ideal For A Golden Retriever you can find it here.
Ever walked on hot concrete barefoot? Remember hopping around like a lunatic… It is a very common way to damage their paws.
Take a look at this video I found on YouTube below.
Dog's paws burned on hot concrete.
If you want added protection use wax. I recommend using, Musher's Secret Pet Paw Protection Wax. You can find the latest price and customer reviews on Amazon here. It is easy to apply, hypoallergenic, and non-toxic.
Paw wax is designed to protect your dog's feet from several potentially harmful surfaces, chemicals, and heat damage. It will also keep their paws from cracking. If your dog has had problems with their paws you can try dog boots/Shoes.
You can also have the added benefit of Reflective Velcro, Very handy when the light fades. They might take some getting used to.
What if they have burnt paws – What to do?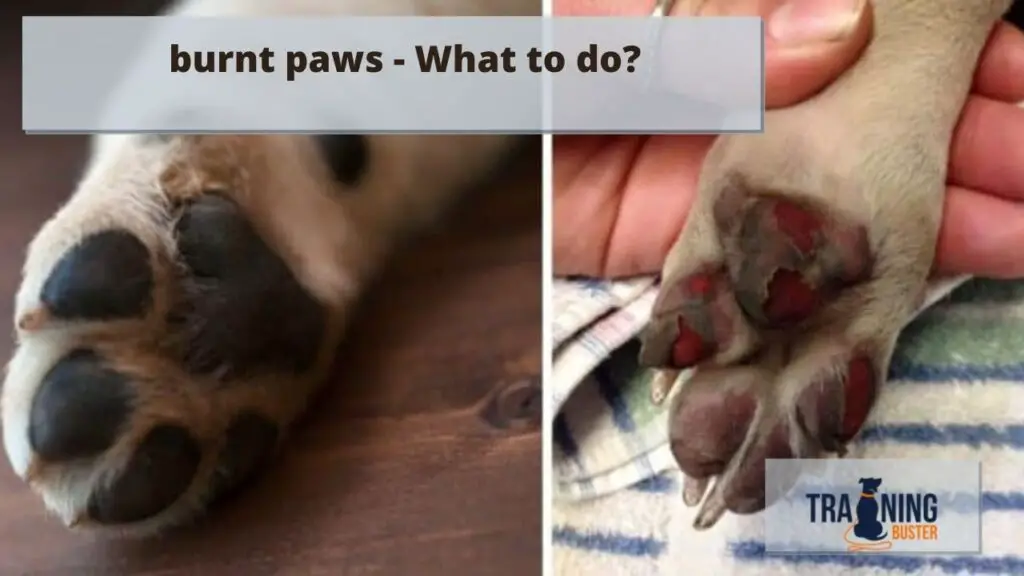 Run a Luke warm bath or full a large bowl and soak their paws for 10 minutes. If you find this difficult then wrap a soaked bath towel.
Then follow these instructions bellow recommended by Petfirst
Assess the injury to the paw
Wash the wound with warm water ensuring there is no debris inside the wound
Remove any debris
Clean the injured area with Betadine solution
Apply antiseptic cream to the wounded area
Wrap the pad in soft gauze
Over the soft gauze, apply a pressure bandage (be sure to leave the toes out). You should be able to fit two fingers underneath the pressure wrap; ensure you do not apply this too tightly.
Keeping a bandage in good condition
Keep it dry
Do not leave your pet unsupervised outdoors
Consider placing a protective inflatable collar on your dog to prevent him or her from removing the bandage
Dog socks can help protect their paws from getting worse and will also help with the healing process, and stop your dog from licking or chewing on the paw pads.
Superficial abrasions and burns may heal within seven to nine days. With deeper injuries, healing may take up to 21 days. If you think they might be infected consult with a registered vet.
Get be prepared – Make a first aid kit for your golden retriever
Get some supplies together, hopefully, you will never have to use it, but you might one day be happy you did.
Below are some bits to get you started.
Band-aid.
antiseptic.
sterile pads.
adhesive bandages or tape.
rolls of cotton and gauze.
peroxide.
Scissors.
Tweezers.
Or you can buy a ready-made kit. here is the one I would buy.
For more about Golden Retrievers see my other articles below