Updated 03/01/2023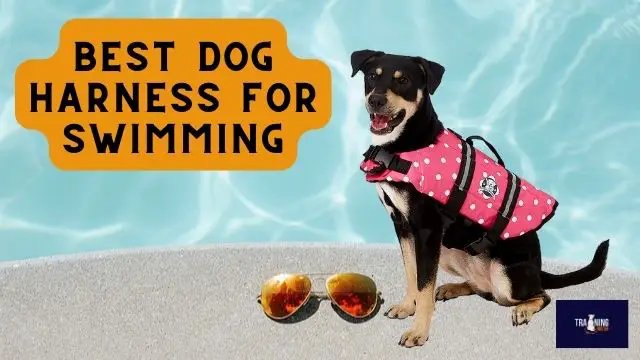 When you take your dog swimming, allowing them to keep their harness on can provide both of you with a sense of security since it makes you feel like you will be able to quickly grab your dog out of the water if they get into any difficulty.
However, some dog harnesses can actually make your pooch substantially less buoyant in the water, making it far more likely for your dog to get into trouble.
But there is also plenty of dogs harnesses on the market that actually features a dedicated buoyancy aid, helping your dog to stay afloat and safe, whilst boosting their stamina. So what is the best dog harness for swimming?
How to Choose the Best Waterproof Harness for Your Dog
Choose a waterproof harness made of high-quality material. When it comes to waterproof harnesses for dogs, you should always look for quality materials like nylon, neoprene, and waterproof fabric. These materials are designed to last and keep your pup dry and comfortable in wet conditions.
Consider the fit of the harness. It's important to choose a harness that is the proper size for your dog. A harness that is too big or too small can be uncomfortable and can lead to slipping or dragging. If possible, bring your pup with you to the store or measure them at home before purchasing.
Look for adjustable straps. Adjustable straps are great for getting the perfect fit. They allow you to customize the harness to your pup's size and body shape.
Opt for a harness with reflective trim. Reflective trim is a great safety feature for walking your pup in low-light conditions. It helps you and your pup stay visible to passing cars or pedestrians.
Consider the style of the harness. Waterproof harnesses come in a variety of styles and designs. You can choose from traditional models, sporty designs, and even stylish designer harnesses.
Outward Hound Dog Life Jacket
Find the best price here
First up is Outward Hound's dedicated flotation life jacket harnesses, all of which feature two handles that allow you to easily rescue a dog who has gotten into difficulty. As well as this, they are all available in bright colors that help you to easily spot your dog, with reflective accents.
The model pictured is the red Dawson style, a version with an emphasis on keeping your dog comfortably warm when swimming in extremely cold waters.
However, Outward Hound also offers a Standley harness float, a green sport version that allows for much easier freedom of movement when swimming rapidly or docks jumping, as well as the Granby style, which is better suited towards breeds like the Corgi or Shih Tzu, who may struggle to keep their heads above water.
The orange Granby has a front inflatable float, to better support your pooch's head.
Coleman Dog Life Jacket Vest
Find the best price here
Then there's the Coleman Dog Life Jacket Vest harness, a vest harness that looks quite like an authentic life jacket, available in bright orange or yellow color.
It's your basic canine flotation device, with a single rescue harness on the back, floating padding all around, and good, open freedom of movement for your dog's legs.
To fit it onto your dog, simply fasten the neck and chest buckles, and that's all! You can also adjust it to suit your dog perfectly.
With the freedom of movement, your dog will be comfortable all day, whether in the sea or on land.
Bark Brite's Multi-Purpose Dog Backpack Life Jacket
Find the best price here
A somewhat sparser model here is the Multi-Purpose Dog Backpack Life Jacket harness from Bark Brite.
This is a harness that not only provides good flotation as standard, you can also add in the optional foam inserts that come with this floating harness, for your dog to be better able to chill out in the pool all day long.
But of course, the main feature of this particular floatation harness is its two backpack pouches, which are the perfect size for canine camping gear like a foldable water bowl and a squeaky tennis ball.
If you are intending to use this floatation harness in the water, though, be careful not to overload this backpack harness with heavy things.
Whether you want to exercise your dog on land or in the water, this floatation harness offers two options: you could either clip your lead onto the top D-ring above the rescue handle or on the chest D-ring, on the harness' padded chest plate.
Lessbad's Lifeunion Adjustable Dog Backpack Life Jacket
Find the best price here
A floatation harness that's very similar to our previous one, though it's a much different shape and style, Lessbad's Lifeunion Adjustable Dog Backpack Life Jacket harness also features a backpack with large side pockets, as well as good floatation functionality. It too has a padded handle for you to rescue your dog from the water.
Lessbad's backpack lifejacket harness is available in only a bright red color, which gives great visibility in the water if your dog does get into difficulty or have an emergency.
This harness also has a padded front chest panel, much like other harnesses. But not only this, but it also has a rear padded strap, for extra security and comfort for your dog.
This harness's side pockets and even size, in general, are much larger than that of the previous harness on our list, however. This harness is also much more insulating for your dog. You can even hook on a toy or accessory to this harness.
But when it's time for walkies, this harness has only the one, standard D-ring, on the back.
A-MORE Dog Life Jackets Dog Saver Harness
Find the best price here
What's that swimming this way? It's not a shark, it's your dog in A-MORE's novelty Life Jacket harness!
Available with a very comfortable handle and sturdy plastic D-ring for your leash as well as fully adjustable chest straps much like other harnesses, A-MORE's life jacket harness also has the advantage of offering several cool designs.
Want to scare other beach-goers? Then go for the frightening shark fin design floatation harness. Or if your pooch is more of a dragon, flying through the air before jumping into the dock, why not dress them up in the grey Toothless design buoyant harness.
You can even help your dog to embrace their inner mermaid, with the pink tail life jacket harness option.
Paws Aboard Dog Life Jacket Vest
Find the best price here
Here, with some even more stylish and unique floatation harnesses, Paws Aboard have a life jacket vest harness in various designs that's perfect for every dog. 
If your dog is a speed demon, on fire in the water, why not opt for Paws Aboard's Racing Flames floatation harness, to match your pooch's lifestyle?
Or if you are embarking on an arduous snowy trek together and want a floatation harness for the occasional spring and stream, why not check out Paws Aboard's grey Snow Camo design life jacket harness?
There's even a bright hi-vis Neon Yellow version in case you want to take your dog to a, particularly hazardous building site.
And then, of course, there's a Nautical-themed life jacket harness and a bright red "Lifeguard" floating harness, for those boating trips or days at the beach.
Or for that diva pooch in your life, there's even a Pink Polka Dot harness jacket and a pastel Pink version, too.
On top of this, all designs of the Paws Aboard floatation harness come with two reflective strips for great safety in the dark, as well as being highly size-adjustable, to fit all kinds of dogs.
Paws Aboard's life jacket harnesses are well-ventilated to better allow your dog to dry, and you can even hook a leash on the D-ring by your dog's neck.
10 tips to make your dog pool safe
Install a fence around the pool area to keep your pet away from the water.
Place a pool cover over the pool when not in use.
Use a pet ramp or steps to help your pet get in and out of the pool.
Install a pool alarm to alert you if your pet falls in the pool.
Supervise your pet when they are near the pool.
Ensure that they have a life jacket or flotation device on
Educate yourself on pet CPR and first aid.
Familiarize your pet with the pool gradually.
Keep the pool clean and free of debris.
Offer your pet plenty of fresh water and shade when they are near the pool.
Is it ok for a dog to swim in a harness?
Yes, it is generally safe for a dog to swim in a harness, as long as the harness fits properly and is made for water activities. It is important to make sure that the harness does not restrict the dog's movement or cause any discomfort.
Can a dog get out of a swimming harness?
Yes, a dog can get out of a swimming harness if it is too loose. It is important to make sure that the harness is properly secured and fitted and to also make sure to check the fit regularly.
Check the harness for signs of wear or damage, and replace it if necessary. Also, it is important to supervise your dog while they are swimming and to be aware of any signs of distress.
If you notice that your dog is struggling to swim or is trying to remove the harness, remove the harness and stop the activity immediately.
By Michelle McDaid