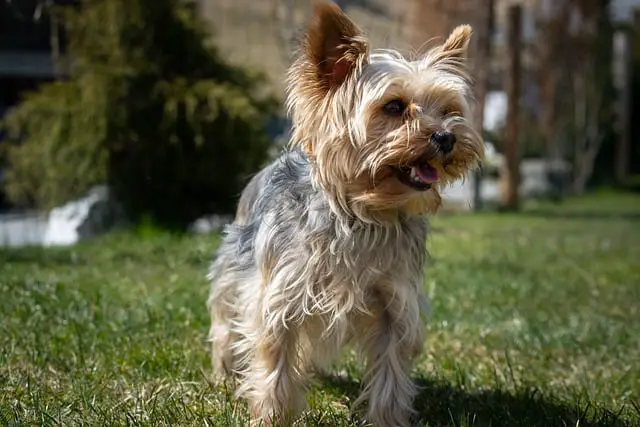 The Yorkie is a small dog with a gorgeous, silky single coat. But when this beautiful coat gets infested with pests like fleas, it's easy to spot.
But it's not so easy to figure out what to do about it. However, thankfully, there is a range of good treatments for fleas out there, specially formulated for small dogs like Yorkies, and even a wide range of great preventative measures too!
So, what is the best flea treatment for a Yorkie? This is what we're going to be exploring in this article, so please read on to find out more!
Our top pics for Flea Treatment For a Yorkie are:
CrossBlock II for Dogs and Puppies 3 to 10 Pounds – Purple Label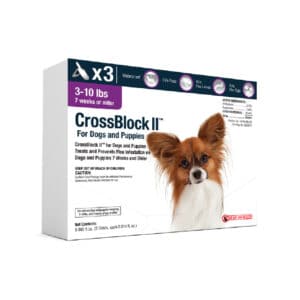 First up is CrossBlock II Purple Label, a waterproof topical flea treatment in a tube, designed to be administered onto your Yorkie's back.
This can be a convenient way to administer a flea treatment to a Yorkie since there's no danger of them spitting it out. You do have to make sure your Yorkie does not lick the treatment off, however. So, be careful if you have multiple pets!
Using the pesticides imidacloprid and pyriproxyfen, CrossBlock II eradicates all adult fleas on your Yorkie's body, and destroys all flea eggs, too.
Use CrossBlock II every month to keep your Yorkie flea-free!
Advantage II Flea Control for Small Dogs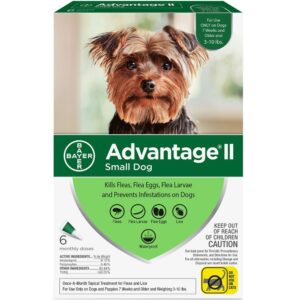 Next, is Advantage II Flea Control for Small Dog, another topical flea remover that uses pipettes to destroy any fleas present on your pooch's body.
Even after you give your Yorkie a bath or take them swimming, Advantage II will continue to work!
Advantage II kills fleas as soon as they come into contact with the treatment on your Yorkie's body. This means adult fleas and even their larvae and eggs!
Advantage II Flea Control also uses imidacloprid and pyriproxyfen, and this pack comes with enough flea treatment sachets to protect your Yorkie for 6 months.
VetraSeb Silver Antifungal Antimicrobial Shampoo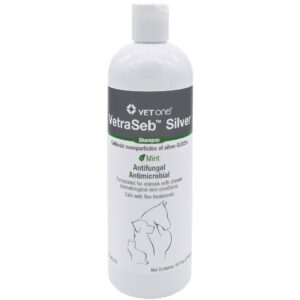 VetOne® VetraSeb Silver Antifungal Antimicrobial Shampoo is not a flea treatment in itself. It is, however, an antifungal and antimicrobial shampoo, which can help with the healing of any existing flea bites.
What's more, VetraSeb is suitable to be used in conjunction with flea treatments, including topical flea treatments like Crossblock II and Advantage II, without you having to worry about it interfering or reacting with the ingredients, or stripping its effectiveness.
Simply lather VetraSeb onto your Yorkie's coat until they are covered in the suds from head to toes. Then, after leaving the shampoo on for 5 minutes, rinse it off thoroughly.
Advantus Oral Flea Soft Chews for Small Dogs (30 count)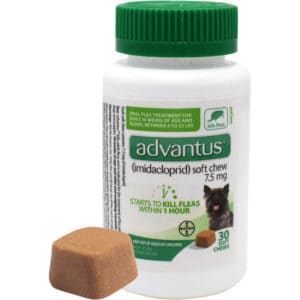 Perfect for small dogs, like the Yorkie, Advantus Oral Flea Soft Chews for Small Dogs harness the power of the neurotoxin, imidacloprid, to first paralyze, and then, kill the fleas in your Yorkie's body.
Safe to administer to any dog older than 10 weeks, simply hold an Advantus Oral Flea Soft Chew out to your Yorkie and watch them gobble the palatable treat up!
Give your Yorkie one of these delicious treats once a month for constant protection from the effects of fleas and other insects.
Seresto Flea & Tick Collar for Small Dogs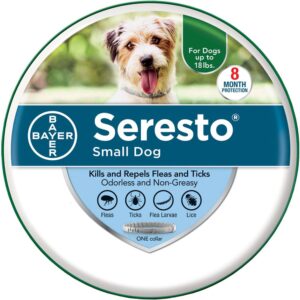 If you want to prevent your Yorkie from getting infested with fleas in the first place, a flea collar is one of the best things to use, and this flea & tick collar for small dogs, from Seresto, is the perfect option for a Yorkie!
This polymer matrix collar from Seresto gives your Yorkie's fur an uninterrupted supply of the ingredients imidacloprid and flumethrin, for 8 whole months. These ingredients have zero odor and are non-greasy.
This flea collar works by distributing its active ingredients over your Yorkie's skin and fur, evenly and continuously. Just as the two active ingredients wear off, more is given out, to provide continuous coverage. Pick one up today!
Spectra Shield flea & tick Medallion for Small Dogs (14-29 lb) GREEN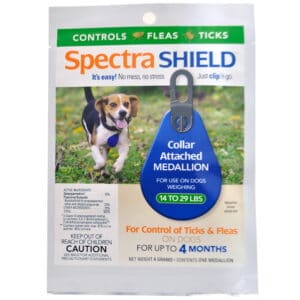 Want a more stylish and easier way to keep your Yorkie free from fleas and ticks? Look no further than the Spectra Shield Flea & Tick Medallion for Small Dogs!
This product is a tag that simply clips onto your Yorkie's existing collar for the same, long-lasting protection as other similar products.
The Spectra Shield Medallion GREEN will keep your Yorkie safe from fleas and ticks for up to 4 months after you clip it onto their collar.
The Spectra Shield has almost no toxicity towards humans and dogs while being highly effective at eradicating fleas, ticks, and other pests.
The Spectra Shield Medallion kills all adult fleas and ticks in all their life stages!
Liberty 50 Plus IGR Spot-On for X-Small Dogs (3 MONTHS)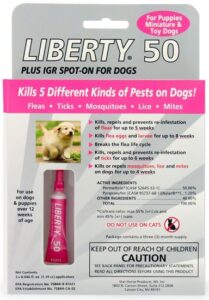 Using the sunlight-stable chemical called Nylar IGR, Liberty 50 for Puppies, Miniature & Toy Dogs can kill and repel not only fleas, but also ticks, lice, mites, and even mosquitoes!
In this way, Liberty 50 can prevent re-infestation of most pests in your Yorkie for up to 8 weeks.
The permethrin used in this product is one of the safest active ingredients there are for dogs and is extremely unlikely to provoke any kind of negative reaction in your Yorkie.
Liberty 50 Spot-On will protect your Yorkie from adult fleas for around 5 weeks, while the treatment can kill flea eggs and flea larvae for up to 8 weeks. This breaks the flea life cycle, preventing fleas from re-infesting your Yorkie!
SENTRY PRO Flea & Tick Shampoo for Small Dogs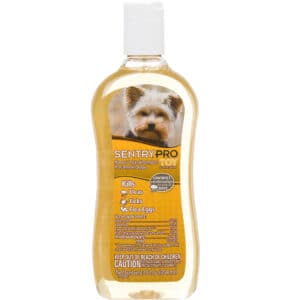 Sentrypro Toy & Small Breed Flea and Tick Shampoo is a powerhouse of a shampoo! Not only does Sentrypro kill any fleas present on your Yorkie's fur, but it also kills the fleas' eggs, as well as any ticks present.
What's more, Sentrypro Shampoo also makes re-infestation of fleas and ticks unlikely for up to 30 days, meaning that you only need to bathe your Yorkie with this shampoo around once every month for complete, constant protection from fleas!
As well as this, this type of Sentrypro Flea and Tick shampoo has been specially formulated to suit small and toy breed dogs, like the Yorkie!
So, What is the Best Flea Treatment For a Yorkie?
So, what makes the best flea treatment for a Yorkie? There's no right or wrong answer. The best flea treatment for a Yorkie mainly depends on what your Yorkie themselves prefers.
If your Yorkie rubs a flea collar off, a tablet may end up being the better solution, while a Yorkie who refuses to swallow a flea tablet may do better with shampoo or spot-on treatment.
And of course, a spot-on treatment is completely ineffective if another pet is going to immediately lick the treatment off. So, the best flea treatment for a Yorkie depends on the individual Yorkie.