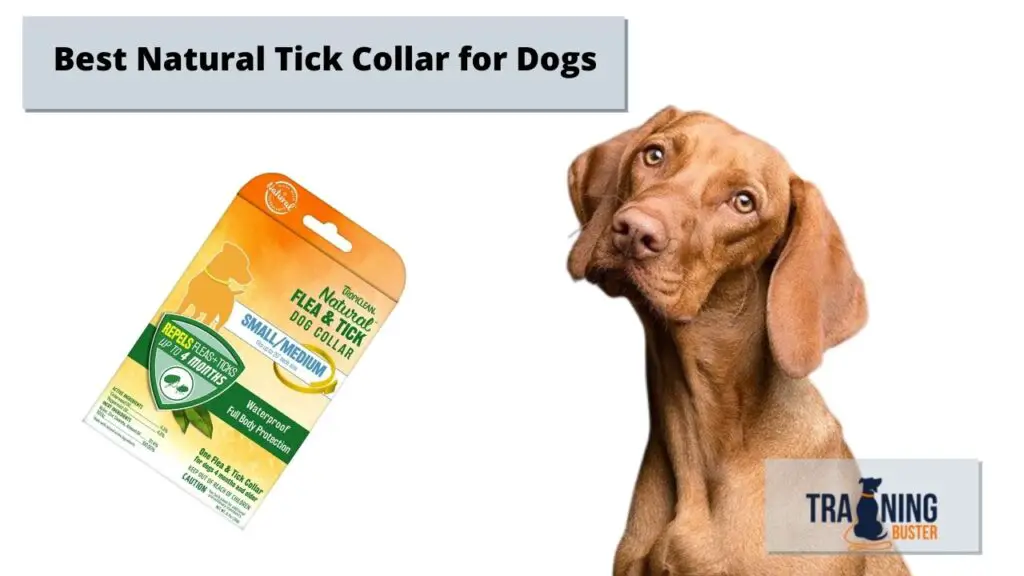 Fleas and ticks are the banes of many a dog owner's life. Sometimes it seems like, no matter what you do, you're forever removing these pests from your pooch's coat! And since ticks often carry Lyme disease – especially in North America – it's so important to prevent tick bites if possible.
With so many products on the market containing harsh chemicals and harmful ingredients, it's important to get back to basics. This is especially true with a dog's sensitive nose.
But thankfully, there is now a range of natural flea and tick collars on the market that can give your dog continuous protection from all common pests without irritating their sensitive skin and sense of smell!
So, let's find the best natural flea and tick collar for dogs:
TropiClean Natural Flea & Tick Repellent Collar
First up is TropiClean's Natural Flea & Tick Collar. Using only the natural ingredients of cedarwood and peppermint oils, TropiClean's flea & tick collar repels those pesky pests in a totally natural way!
TropiClean's natural flea and tick repellent collar will work for up to 4 whole months and is suitable for dogs with up to 20" neck circumferences.
If this wasn't enough, TropiClean also stock a range of equally scrumptious and fresh-smelling shampoos and dental products!
2 Pack Flea Collar for Dogs, Allergy Free
Next is the 2 pack flea collar for dogs from Pets vv. This waterproof collar uses citronella oil, lemongrass oil, and clove oil to repel ticks, fleas, harvest mites, mosquitoes, and lice. If your dog loves swimming or playing in the water, don't worry, because this collar can handle it!
This collar is also long-lasting, with the potential to keep functioning for 8 whole months! Then, when this collar does eventually wear out, just pop the next one on! As well as this, at 25 inches, the collar is bound to be a perfect fit for all dogs.
Natural Care Repellent Flea & Tick Collar for Dogs & Puppies
From Natural Care, this flea and tick collar repels ticks and fleas for up to 4 months using peppermint and cedarwood oil-infused nylon. Natural Care' flea and tick repellent collar are made in France with the finest materials.
Natural Care's flea and tick collars are highly adjustable, up to a 20-inch neck size. Simply cut off the excess material for a comfortable fit!
Free from PVC and phthalate, Natural Care's peppermint and cedarwood collar is 100% natural – as are all their products!
SOBAKEN Natural and Hypoallergenic Flea and Tick Collar for Dogs
Want 24hr 8-month tick and flea protection for your dog? Look no further than SOBAKEN's natural and hypoallergenic flea and tick collar! This 100% natural, hypoallergenic tick collar uses only allergen-free ingredients to shield your pooch from fleas, flea larvae, ticks, chewing lice, and even sarcoptic mange!
With only the most pet-friendly ingredients, SOBAKEN's flea and tick collar are unlikely to trigger an allergic reaction in your pooch. SOBAKEN's hypoallergenic flea collar is so gentle, you can even use it on puppies just 3 months old!
If this wasn't enough, SOBAKENhave also partnered with a charity, and will donate $3 with every sale!
Flea and Tick Collar for Dog, Made with Natural Plant Based Essential Oil
Want an easy-to-use flea and tick collar that doesn't aggravate your pooch's sensitive skin? ShengKou's natural flea and tick collar is the way to go!
Using natural citronella, ShengKou's flea and tick collar defends a dog against lice, flea larvae, ticks, and lice. The collar will continue to spread its protective oils throughout your pooch's coat for 12 whole months!
On top of this, ShengKou gives $2 to a charity that saves the animals with every sale of their collars!
Parenda Flea and Tick Collar for Dogs
Created by veterinarians and lab tested for safety, Parenda's flea and tick collar for dogs is perfect for all dogs. With a max size of 70cm, Parenda's flea and tick collar fits even the largest breeds.
Using a proprietary blend of essential oils, Parenda's tick and flea collar shields your dog from not only ticks and fleas, but also flea larvae and lice, too!
This odorless, non-greasy collar is also waterproof, and can provide protection for up to 8 months!
AES Flea and Tick Prevention for Dogs, Flea and Tick Collar for Dogs
Sold by ITBAZ, this flea and tick collar from AES defends your dog from ticks, fleas, lice, larvae, and even mosquitoes! At 25 inches, this collar is suitable for all dogs over 12 weeks old.
AES' flea and tick collar provides 8 months of protection and is completely safe and waterproof. If you have any questions or queries, get in contact with AES' great customer service to find out more.
Seresto Flea and Tick Collar for Dogs
An odorless and non-greasy formula, this tick and flea collar begins repelling and killing fleas from 24 hours of being first applied! A popular brand, you can trust Seresto to protect your pooch.
This Veterinarian-recommended flea and tick protection collar kills fleas and ticks merely through contact. It works by spreading protective oils through your pet's coat. This collar will work for up to 8 months, and will eradicate not only ticks and fleas but also mange and lice!
Vet's Best Flea and Tick Repellent Collar for Dogs
Another well-known and popular brand, Vet's Best's flea, and tick collar works by spreading peppermint and cedarwood essential oils throughout your dog's coat to defend them from the itching and harm of fleas and ticks.
Made using only 100% natural essential oils, Vet's Best's flea and tick collar is unlikely to harm your pooch or cause an allergic reaction. Plus, it will make your dog smell great, while also providing continuous protection!
This natural collar is completely fine for your dog to wear around kids and other pets, too. At 20 inches, this water-resistant collar will fit most pooches. Thoroughly tried and tested, this has to be the best flea and tick collar for dogs!