Updated 08/01/2023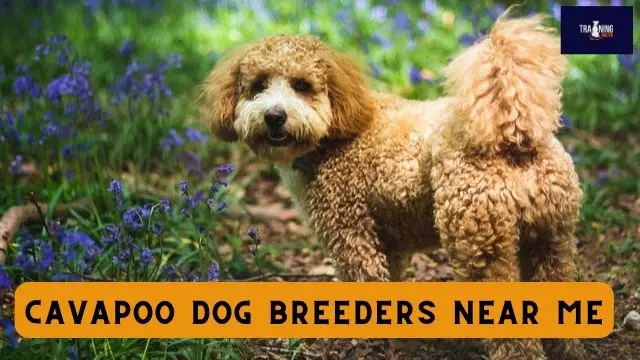 If you are a Cavapoo breeder and would like to be added to our list please email us at hollyberry@kariaberrygroup.com
Here are some questions you might consider asking Cavapoo breeders
How long have you been breeding Cavapoos?
Do you have any references or testimonials from previous buyers?
Can I see the mother and father of the puppies?
Have the puppies been socialized with people and other animals?
Have the puppies received any health screenings or genetic testing?
What is your return/exchange policy if I am not satisfied with my puppy?
What is your feeding and exercise routine for the puppies?
What type of training and socialization have the puppies received?
Are the puppies up to date on their vaccinations and deworming?
Do you offer any support or resources for training and care after I bring my puppy home?
what should you expect to see at a Cavapoo dog breeder
At a Cavapoo dog breeder, you should expect to see a variety of Cavapoo puppies of different ages and sizes. You should also expect to see the breeder's facilities, which should be clean and well-maintained.
The breeder should be knowledgeable about the breed and be able to answer any questions you may have. You should also expect to see the parents of the puppies, as well as any health records or other documentation related to the puppies.
Finally, you should expect to receive detailed instructions on how to care for your new puppy.
Be sure to read our article The best questions to ask when buying from a Cavapoo breeder here
ALABAMA
ALASKA
ARIZONA
ARKANSAS
CALIFORNIA
COLORADO
CONNECTICUT
DELAWARE
FLORIDA
GEORGIA
HAWAII
IDAHO
ILLINOIS
INDIANA
IOWA
KANSAS
KENTUCKY
LOUISIANA
MAINE
MARYLAND
MASSACHUSETTS
MICHIGAN
MINNESOTA
MISSISSIPPI
MISSOURI
MONTANA
NEBRASKA
NEVADA
NEW HAMPSHIRE
NEW JERSEY
NEW MEXICO
NEW YORK
NORTH CAROLINA
NORTH DAKOTA
OHIO
OKLAHOMA
OREGON
PENNSYLVANIA
RHODE ISLAND
SOUTH CAROLINA
SOUTH DAKOTA
TENNESSEE
TEXAS
UTAH
VERMONT
VIRGINIA
WASHINGTON
WEST VIRGINIA
WISCONSIN
WYOMING