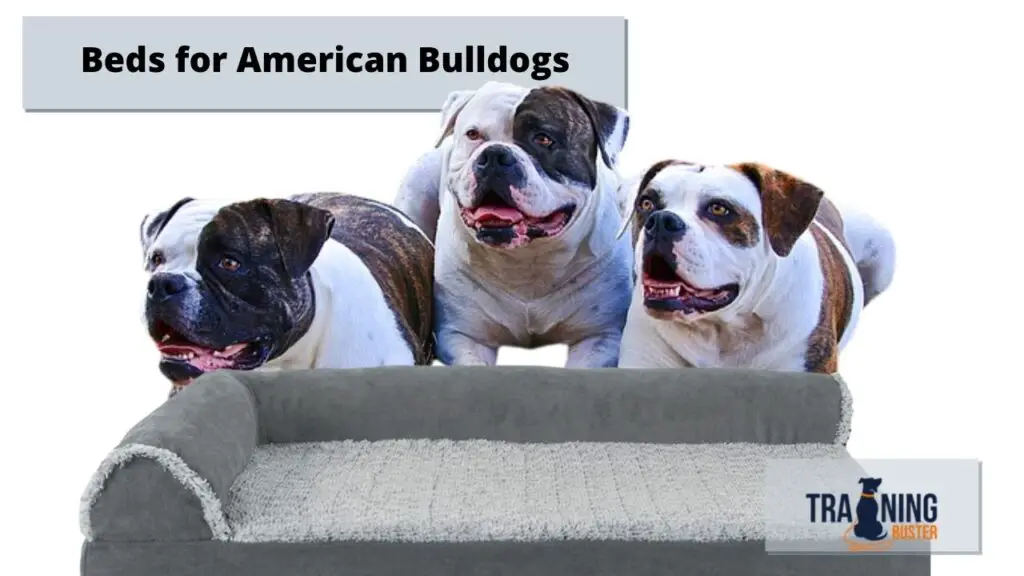 There are so many dog beds on the market, and they all claim to be the best. Some are firm and supportive, while others are soft and snuggly. Some have high sides that your American Bulldog can rest their chin and neck on as they sleep, while others are low or flat, for your Bulldog to stretch out on.
In this list, we detail some of the best dog beds for American Bulldogs. So, if you're in the market for a new dog bed for your pooch, read on!
ASPCA Microtech Dog Bed
For our first bed, here's the ASPCA's Microtech Dog Bed. The plush high rim provides a cosy area for your American Bulldog to rest their chin on and breathe easy, while also protecting them from drafty breezes.
This plush dog bed also has a low entry point, meaning it will be easy for your American Bulldog to enter the bed, even in old age. When the bed gets dirty, simply remove the durable washable cover and pop it in your machine!
Your American Bulldog will love the ASPCA's soft bed.
Dog Bed King Cuddlers And Sofa Couch Pet Beds
Next is Dog Bed King USA's Dog Bed King Cuddlers. With a cosy imitation lambswool interior, this bed is ideal for an American Bulldog who loves to snuggle. On top of this, the solid oval foam form matches your American Bulldog's natural sleeping position exactly, for maximum comfort.
When it's time for a wash, just remove the all-in-one elastic banded cover and put it in your machine – no fiddly buttons, poppers, or zippers! Available in a range of different sizes and colors, the bed of your American Bulldog's dreams is here.
Amazon Basics Warming Pet Bed For Dogs
Does your American Bulldog love to be toasty and warm? This innovative pet bed from Amazon Basics will keep your thin-coated Bulldog cosy in an interesting and unique way.
Using the same self-warming mylar technology found in astronauts' spacesuits, this pet bed helps reflect your American Bulldog's body heat back at them. No electricity needed! This technology coupled with the downy sherpa material and robust corduroy creates one of the cosiest pet beds you can find!
American Kennel Club Self Pet Cuddler
Give your American Bulldog sweet dreams with the official American Kennel Club Self Pet Cuddler! The luxurious AKC Dog Cuddler is a great bed for dogs like the Pug or American Bulldog since the high bolster walls help support a dog's chin and neck. This allows for better breathing during the night.
The walls also work to form a nest, reducing your American Bulldog's exposure to drafts and breezes. On top of this, the luscious Casablanca fabric, 100% polyester, will give your American Bulldog the cosiest den ever!
Washing machine and dryer safe, when this bed needs a clean, just put the whole thing in on a cold and gentle cycle.
BESSIE AND BARNIE signature frosted willow luxury shag dog Bed
Does your American Bulldog prefer to curl up in a circle? If so, Bessie and Barnie's signature frosted willow luxury shag bagel bed is a perfect option. With a sunk center and raised edges, like a bagel, this bed is perfect for pooches who spin around and around before finally settling down.
As well as this, the luxury shag fabric is extra plush and unbelievably soft. So, this bed is sure to feel great against your American Bulldog's skin. Don't worry about dirt either – this bagel bed has a waterproof pillow liner, protecting it from stains.
When you get tired of one design, you can also flip this reversible bed over to the other side, where you will be greeted with a fresh new fabric design in a different color!
Bedsure Orthopedic Dog Bed
Want to give your American Bulldog maximum, lasting comfort? This orthopedic doggy bed from Bedsure has a 3" high-density egg crate foam mattress. This unique material helps to distribute your American Bulldog's weight evenly, producing maximum snugglyness!
On top of this, the firm yet plush wall bolsters shield your American Bulldog from those pesky stray breezes, while also providing support for your Bulldog's chin and snout as they sleep. If your Bulldog starts to dream of running and playing, don't worry – the nonskid bottom will hold your pooch in place and guarantee a good night's sleep.
When it's time for a clean, just remove the zippable cover from the bed and place it in your machine! The inner foam also has its own TPU cover, to protect it from mud, pee, and all other doggy staining.
PUPPBUDD Pet Dog Bed for Medium Dogs
Does your American Bulldog prefer to stretch out? This massive bolster dog bed from PUPPBUDD is unbelievably snuggly and plush! This bed's slightly raised rim will give your American Bulldog the gentle support they need for a good night's sleep.
The eco-friendly stuffing in this plump, orthopedic dog bed will give your American Bulldog the most relaxing rest they've ever had. To wash, just place the entire bed in your machine on a gentle cycle. Then, put it in a dryer.
Available in a range of cute, stylish, and bright colors, you're sure to find a Puppbudd bed to suit your home décor.
Best Friends by Sheri The Original Calming Donut Cat and Dog Bed
Wouldn't your American Bulldog just love to sink into a deep pile of plush fluffiness? Let your Bulldog fulfill their dream with the original Calming Donut dog bed!
With a raised rim and deep yet equally soft base, as soon as your American Bulldog curls up for the night, they'll begin sinking into the softest burrow of fur-ever! This is similar to the way a dog sleeps in the litter.
Available in a range of colors and sizes, and with an optional matching blanket too, you're sure to find a calming donut bed to suit you perfectly!
Furhaven Orthopedic CertiPUR-US Certified Foam Pet Beds
Is your American Bulldog forever taking over your sofa? Give them their own armrest with the Furhaven Orthopedic bed!
Using egg-crate orthopedic foam, as well as a plush faux fur fabric, your American Bulldog's hips, back, neck, and other joints will be fully supported. Your Bulldog can also burrow right into the bolsters, or rest their chin on them.
The egg crate foam in the Furhaven Orthopedic bed also helps your American Bulldog regulate their body temperature, keeping them warm and comfortable throughout the night. Available in both a Chaise and Sofabed style, take a look at them all to find the right one for your American Bulldog.