Bichon Frises are jolly, boisterous little entertainers, with unbelievably soft, allergen-free fur. Surprisingly robust, Bichon Frises can deal with extreme winter weather surprisingly well. But this small fluffball is surely only hardy up to a point, right?
So, do Bichon Frise need winter coats? Or do they do fine with their own coat? And if so, what kind of coat do they need? Let's take a look at this: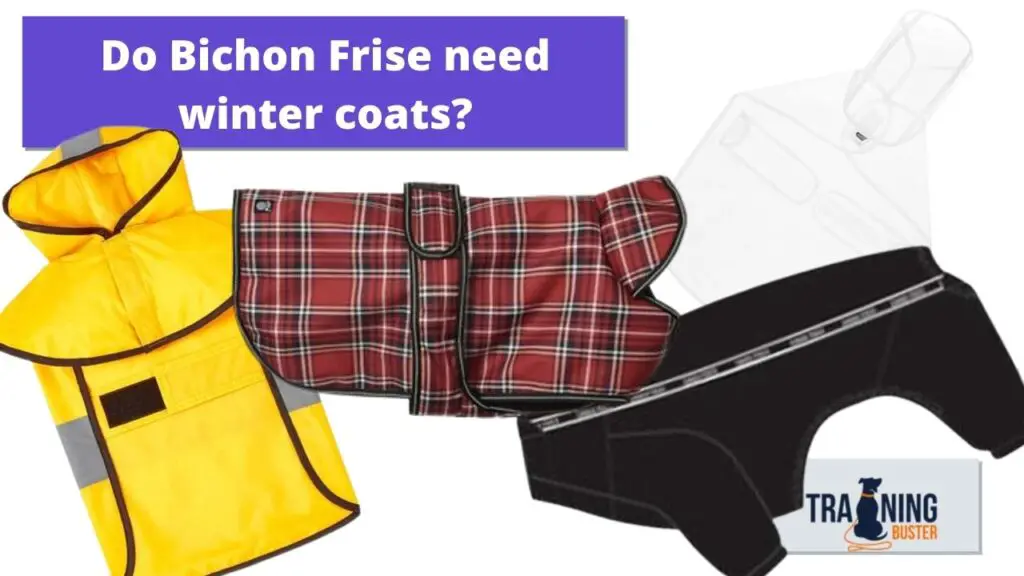 Do Bichon Frise get cold in the winter?
The Bichon Frise is a dog with a fun, friendly, and playful personality. Their thick, non-shedding coat is perfect to pet. Plus, since they don't shed, the Bichon Frise is perfect for people who are usually allergic to dog fur.
Of course, since their coat just keeps growing without falling out, you'll need to brush a Bichon's fur regularly. But when you do, your Bichon Frise will sport a plumage to die for!
Obviously, this soft, luscious fluff affords a Bichon Frise a certain level of protection against the elements. Gentle drizzle simply gathers on the surface of my own Bichon Frise's fur, only to be quickly shaken off. Indeed, even as my Bichon trots about in the snow, he never shivers or loses stamina.
But in heavier precipitation, the Bichon Frise soon becomes noticeably bedraggled. At the beach, for example, a Bichon Frise will need frequently dried to avoid cold setting in. Yet, it can be tough to get your Bichon Frise dry when they have so much fur!
The Bichon Frise's minute size only serves to exacerbate how cold this dog gets in winter since so much of a Bichon Frise's surface area comes into contact with the ground.
So, do Bichon Frises need winter coats?
Considering the breed's bantam stature, I think it's safe to say that a Bichon Frise could definitely do with a winter coat, even if their fluffy fur usually provides them with all the insulation they need.
However, a Bichon Frise does not necessarily need the bulky parka you see Greyhounds or Whippets wearing at the park in deep winter. Instead, the main priority is keeping the right areas of your Bichon's body dry.
 What makes a good coat for a Bichon Frise?
So, what's a good option for a Bichon Frise's winter getup? Well, the first thing to look at is the materials used. A coat with synthetic waterproof materials is your best bet. You don't want a coat that will just soak up moisture.
As well as this, you may like to layer your Bichon's new rain-proof coat with something warm, especially if they've recently had a trim. Some coats even come with removable insulating layers, which is handy when you want to wash the mud off just the waterproof part.
Speaking of cleaning, if your Bichon Frise is anything like mine, you'll also need to make sure that your chosen coat is easily washable. Even if your Bichon doesn't roll in fox or bird poo every day, a weekly wash can still get rid of that permeating mystery smell. So, look for a lightweight coat that will dry quickly.
Another thing you'll need to think about is body coverage. Since the Bichon Frise's belly is so close to the ground and also the least fluffy part of their body, their coat will need to provide full coverage for their girth. Thankfully the Bichon doesn't have a hound's broad chest.
Last but not least, if you can find it, and your Bichon Frise tolerates them, a coat with sleeves will be amazing for keeping your Bichon mud-free after that rainy day walks!
So, let's take a look at some of our favorite coats!
Frisco Rainy Days Dog Raincoat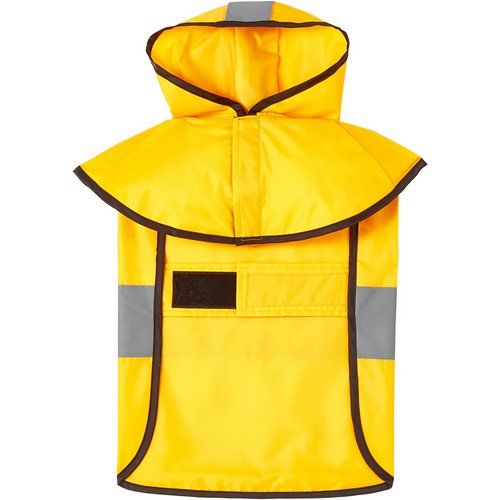 Leash hole with flap allows for easy access to a collar or harness without letting the rain in.
Large reflective stripes is designed to increase visibility for added safety during your walks.
Easy to keep clean by hand washing in cold water and laying flat to dry. Available in different sizes so you can find the right fit.
Our first raincoat is the Rainy Days hooded coat from Frisco. Available in a range of small sizes perfect for the Bichon Frise, the Frisco Rainy Days features a reflective strip. This handy device keeps you and your Bichon Frise safe and visible – literally brilliant for those drizzly winter days where it just never seems to brighten up!
The rest of the coat is a highly conspicuous bright yellow color, to make sure you'll be seen. And, made from a PVC coating, this impermeable coat is sure to keep your fluffball warm and dry by your side. Just clip your Bichon Frise in, slot your leash through the hole, adjust the straps for a secure fit, and you're ready to go on a rainy adventure! Order here.
Frisco Clear Vinyl Dog Raincoat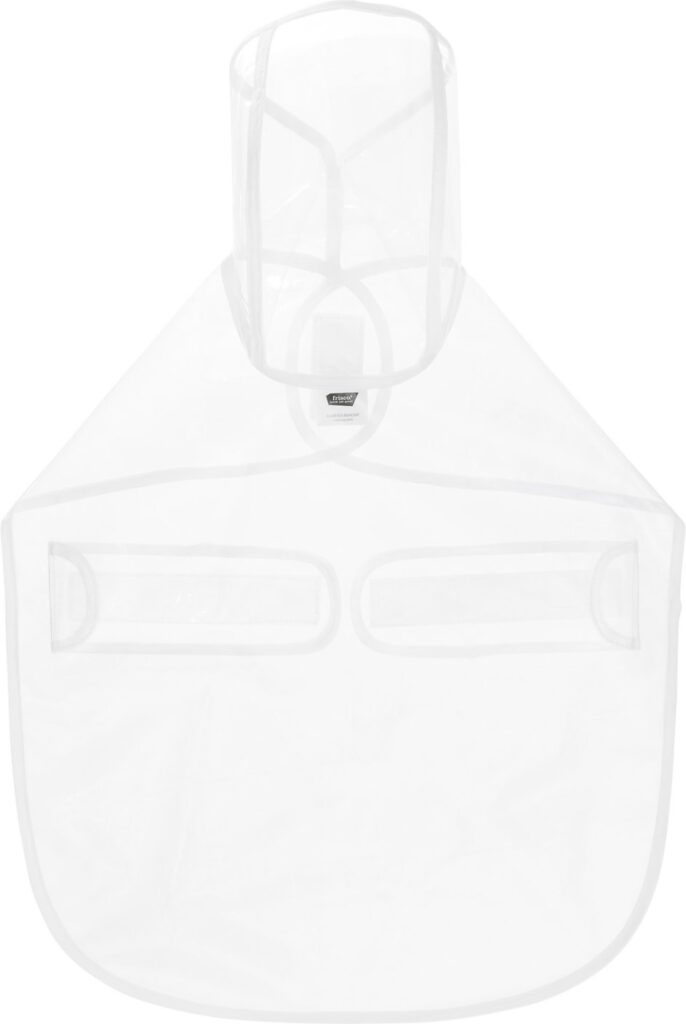 100% waterproof vinyl to help keep water out, with hood and stylish white piping.
Transparent style lets you show off your pup's cute look underneath the rain coat.
Fuzzy fasteners around the neck and belly make it easy to put on and take off.
Built-in leash hole at the neck seam lets you attach a leash to your dog's collar, worn under the raincoat.
Another great product from the innovators at Frisco, this Clear Vinyl coat is much the same as the last one. The highly adjustable straps allow you to perfectly position the coat to fit your pooch securely, while the hood gives great coverage and rain protection.
However, the transparent fabric allows your Bichon Frise to harness those precious rays for some winter vitamin D. The see-through material also lets you show off your Bichon's latest grooming!
Any time it gets dirty, just wipe the stain right off with a cloth, or pop it in your washing machine for a more in-depth clean.
If you like both these coats, you can save on them with Frisco's bundle offer!
Canada Pooch The Slush Dog Suit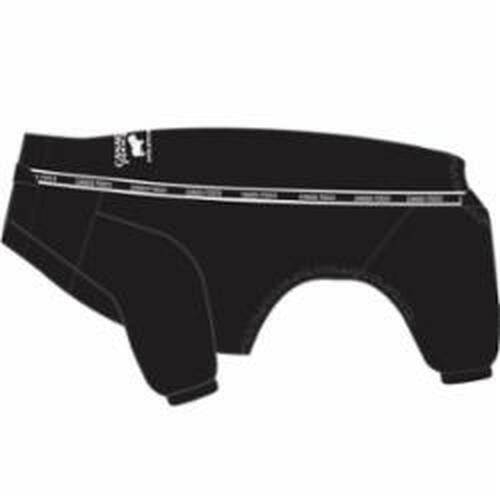 Stylish slush suit for your dog.
Designed with an adjustable neck for added comfort.
Crafted with a side zipper closure for easy on and off.
Available in different colors and a range of sizes for the paw-fect fit.
Want to give your Bichon Frise a little more coverage? Well, the Slush Dog Suit from Canada Pooch has got you pretty much completely covered! With four full-length sleeves, the slush dog suit is sure to keep almost all of your Bichon Frise's body warm and dry.
On top of this, the slush dog suit uses a side zipper closure, meaning that getting this coat on and off is a piece of cake! The waterproof slush dog suit is also available in a range of colors, to suit every slush Bichon. The taping on the side also guarantees you can spot your Bichon Frise, no matter how muddy or deep in the snow they are. Order here.
PetRageous Designs Kodiak Insulated Dog Coat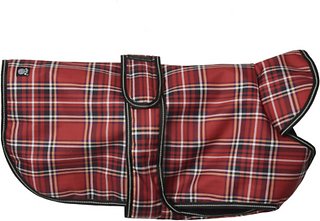 Made from a high-denier nylon shell and a poly-cotton blend inside.
Attractive plaid coat is fetching and versatile, keeping your dog safe from the elements.
Heavyweight coat is water and windproof, perfect for wild adventures or harsh weather.
Reflective stitching keeps your pup visible during the night or dark days.
Maybe your Bichon Frise needs something a little warmer? If so, this cozy jacket from PetRageous is just the ticket. A poly-cotton blend will keep your Bichon toasty, while the high-denier nylon shell keeps wind and water firmly out.
As well as this, the adorable plaid design complete with reflective stitching will keep your Bichon Frise visible and looking good. Adding to the snugness is the fuzzy fastener at the back, guaranteeing a perfect fit and making the coat easier to put on and take off. Order here.