Updated on 09/01/2023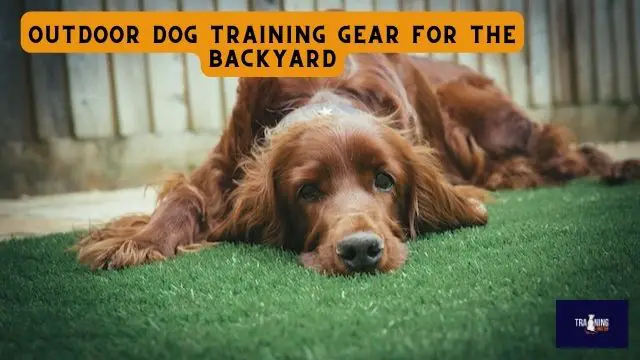 Want to know the best outdoor dog training gear for the backyard? Then read on we have all the information you need to know.
Dog training can be indoors, but when summers are here you want to be outside as much as possible.
The dog training products I have chosen to add here are a great way to exercise your dog and teach them to be obedient. You and your dog will have many hours of fun together.
If you live in an apartment or don't have much space in the garden you can use some of them down a park or sports field.
Training your dog can be great fun and more bonding time. We will take a look at some outdoor training gear available online.
What features should I look for when buying outdoor dog training gear?
Durability is important. Make sure it can withstand a lot of wear and tear. It should also stand up to the weather and withstand the elements. If the outdoor training gear is adjustable all the better! Before you buy, check to see if there is a guarantee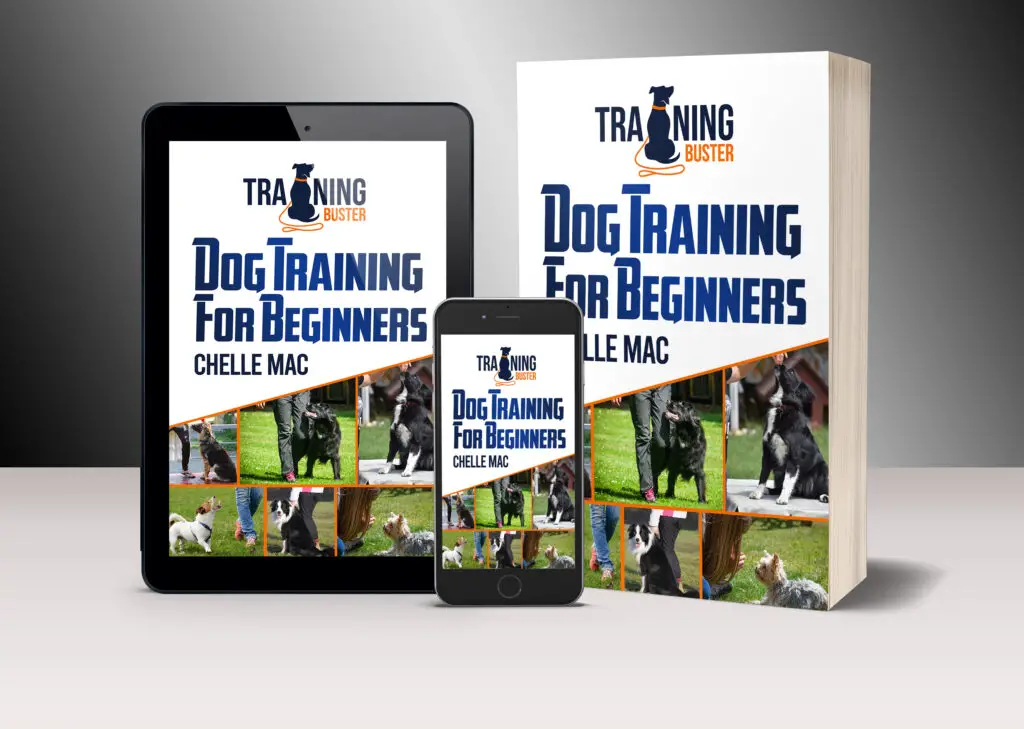 1. Wooden Pet Seesaw for Big and Small Dogs
Find the latest customer reviews and prices on Amazon. Order on Amazon now
You can use a Seesaw to train balance and agility. It is made out of pinewood and has a non-slip rubber coat for grip.
Use the seesaw as a standalone or as part of an obstacle course for dogs. You can add it to the other pieces I will mention in this article.
Product details
| | |
| --- | --- |
| Length | 180 cm |
| Width | 30 cm |
| Maximum height | 54 cm |
| Height of the middle point | 30 cm |
| Weight | 9.1 kg |
| Load Capacity | 50 kg |
| Material | Pinewood, rubber coat |
| Colour | Light brown, red, and green |
The seesaw is considered one of the most important parts of the obstacle course.
Test balance, concentration skills and agility.
Strengthen the relationship between pet and owner.
Apt for big and small dogs, stable and sturdy.
Non-slip protection thanks to rubber coat.
Use as a standalone or as part of an obstacle course.
Tips and tricks for your dog on the seesaw
Your dog shouldn't train with a full stomach, Wait for 45 minutes after feeding.
Let shy dogs start by just walking over the board. Take it slow and steady.
You should walk beside the dog. Put a leash on the dog but don't pull it.
Hold onto the seesaw so that it doesn't fall too hard on the floor.
Take enough breaks in between tries.
Find the latest customer reviews and prices on Amazon. Order on Amazon now
2. 18ft Pet Dog Agility Obedience Training Tunnel Blue
You can order this on Amazon here.
How cool is this? Will look great with the seesaw. If you have seen Crufts then you will remember this for sure. It is 18ft long and comes with 24" double-ended openings.
Great starter toy to see if you and your dog enjoy agility training.
Very lightweight, and easy to set up and takedown.
It comes with 12 metal pins to stake it to the ground in key places and it holds up fairly well.
You can literally twist this tunnel into a full circle or bent to create a turn. It is long and agile.
You could shorten the length by using clips from an office supply store.
The tunnel has strings attached that allows you to tie the tunnel up so it can fit in its carrying case. Very easy to store and you could keep it in the trunk of your car.
A tremendous resource for sharpening your dog's obedience, quickness, dexterity, and overall quality of life.
Use this portable tunnel for casual play, exercise, and introductory training. It is perfect for burning tons of dog energy, playing chase, fetch, hide-and-seek, and a great many other dog/owner favourites.
You can order this on Amazon here.
3. Weaving poles starter set
I can't have this list without weaving poles. They are great fun for you both. They are easily portable so you can take them down the park as well as in your garden.
Contains 12 weaving poles and a carrying case for easy storage or travel.
By inspiring interactive fun, dog agility training nurtures the relationship between you and your dog.
It helps you and your dog get exercise; suitable for outdoor use only.
The weaving polls come with a sturdy zip-up nylon carrying case with a handle.
The poles have long metal spikes at the end that dig into the ground to support them. Them being made from metal will give them far more support than plastic.
4. Dog Agility Hurdle Cone Set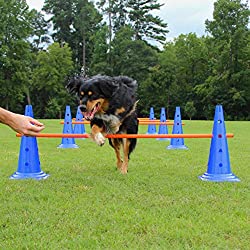 If you want to check out the price on Amazon you can find it here.
This is the 4th outside training product on the list and it's a good one. It comes with four 5 ft hurdles and eight heavy-duty cones that are adjustable.
They come with 4 height settings. If you are just starting out start on the lowest first and work your way up.
If your dog is new to jumping hurdles then follow the tips from success dogs below.
Start at a low hurdle up to your dog's knees and ask him to wait to face the jump whilst you walk around it and turn to face him. Show your dog a treat.
Now call your dog over the jump and as he leaves the ground reinforce and give him the treat as he reaches you.
Introduce your command word.
Practice a few times then raise the height of the jump gradually ensuring that your dog can cope with the height before you make it higher still.
Superhero game plan programe
If you are looking to learn how to train your dog or puppy using force-free training methods then I recommend this online video course. I purchased it last year and some of the tips I learned I still use today. Most of the training methods aren't available on the internet.
Teach your dog
Put toys away
Sit – Stand
Roll over
Weave between your legs
And lots more!
Each session is bite-sized with the focus on getting the student to take the action with information and demonstrations, find out more here.
If you have some spare time to take a look around there are lots of great articles to read.
How much should I expect to spend on a good quality outdoor dog training gear?
The cost of outdoor dog training gear can vary widely depending on the specific items you are looking to purchase and the quality of those items.
Some basic outdoor gear, such as a leash and harness, can be purchased for less than $50. More specialized gear, such as agility equipment or tracking devices, can cost hundreds or even thousands of dollars.
It is generally a good idea to invest in high-quality gear that will be durable and well-suited to your needs.
While it may cost more upfront, it can save you money in the long run by not having to replace lower-quality gear as frequently. If you are on a budget, you can try looking for used gear or checking out discount stores or online marketplaces for good deals.
There are several accessories you may want to consider when purchasing outdoor dog training gear:
Collars and harnesses: These are essential for keeping your dog safe and secure when you are out and about. There are many types of collars and harnesses to choose from, including basic collars, training collars, and harnesses that are specifically designed for activities like running or hiking.
Leashes: A good leash is important for keeping your dog under control and safe when you are out and about. There are many types of leashes to choose from, including basic leashes, retractable leashes, and leashes designed for specific activities like running or hiking.
Identification tags: It is important to make sure your dog is always properly identified in case they become lost. Consider purchasing a durable identification tag that can be easily attached to your dog's collar or harness.
Training aids: If you are working on training your dog, you may want to consider purchasing items like clickers, treats, or other training aids to help with your training efforts.
Outdoor gear: If you will be spending a lot of time outdoors with your dog, you may want to consider purchasing gear like waterproof boots or a raincoat to keep your dog comfortable and protected from the elements.
Get a copy of our top-selling new book on Amazon, Dog Training for Beginners. Get it on Paperback or Kindle here.