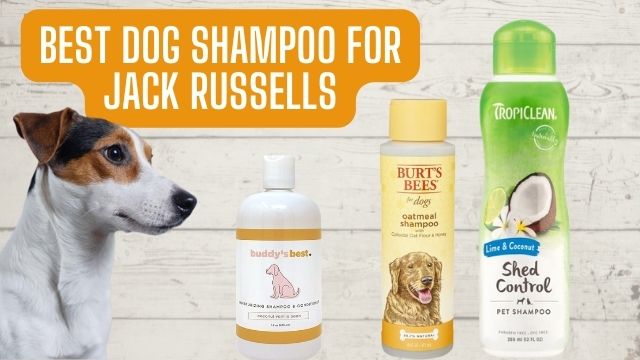 Jack Russells are definitely among the world's favorite breeds. You seem to see them everywhere you go, on every continent, and each Jack Russell has their own distinct, unique, one-of-a-kind personality, though this can sometimes get them into trouble.
For instance, some Jack Russell Terriers have a tendency to run away and roll in things that smell bad, while others like to explore bushes and burrows. Both of these things can lead to your Jack Russell coming home incredibly dirty.
So considering the Jack Russell's unique coat and skin, when you want to bathe them, what is the best dog shampoo for Jack Russells? This is what we're taking a look  at in this article:
Healthy Breeds Jack Russell Terrier Groovy & Mellow Shampoo 
Don't you hate the reek of that notorious wet dog smell after you bathe your Jack Russell? Well with shampoo, you'll never have to encounter even a whiff of this odor again!
Available in a range of bottles from Affenpinscher to Yorkshire Terrier, Healthy Breeds have a unique, specific formulation available for every breed of dog.
This Jack Russell Terrier shampoo is pH balanced, between 5 and 7pH, so that it does not strip your pooch's coat. It is hypoallergenic, too, and is fully suitable to be used with most canine medication, like topical flea control treatments, or anti-insect sprays.
Healthy Breeds' shampoos are also manufactured in the USA, in federally regulated manufacturing facilities.
The lather of this great-scented sweet pea and vanilla shampoo means that a little goes a long way, making Healthy Breeds' an economical choice. SHOP HERE.
AuraPet Aromatherapy Shampoo for Dogs
But it's not just you who enjoys the scent of a great shampoo – with their incredible sense of smell, your Jack Russell Terrier likely appreciates a pleasant smell just as much as you do, if not more!
This is what AuraPet is tapping into with their relaxing Aromatherapy Shampoo for Dogs.
Just like many other canine shampoos on the market, Aurapet's Aromatherapy shampoos help to strip oil from your Jack Russell terrier's coat and to remove dead skin and dandruff, as well as any grime, dirt, or other things they may have rolled in.
But uniquely, the different scents Aurapet offers help to soothe and boost the health of your dog's skin and coat in various different ways.
With Lavender, Rose, Rosemary Mint, and Tea Tree scents to choose from, why not try out all of Aurapet's shampoos on your Jack Russell and see which one they like best?
TropiClean Lime & Coconut Shed Control Shampoo
Shedding or casting is a common problem among Jack Russell Terriers. Especially during the summer months, many Jack Russell Terrier owners will tell you how they try everything to get their Jack Russell to shed less.
And many Jack Russell Terrier owners vouch for this Shed Control shampoo from TropiClean.
Made with only naturally derived ingredients, TropiClean's Lime & Coconut Shed Control Shampoo boosts your Jack Russell's skin health by exfoliating and moisturizing your pooch's skin. So long term use of TropiClean should help to greatly reduce shedding.
Most reviewers say that TropiClean Lime & Coconut Shed Control Shampoo smells great. But if this scent isn't your thing, TropiClean also produces Berry & Coconut and Lime & Cocoa Butter scented products, among other scents.
Pet Oatmeal Anti-Itch Shampoo & Conditioner In One!
Whether or not a Jack Russell Terrier sheds excessively, irritated, itchy skin is still a common problem amongst dogs of this breed. But thankfully, there are many different brands of the shampoo out there that aim to soothe a dog's inflamed skin.
One such brand of dog's anti-itch shampoo is Pets Are Kids Too's Pet Oatmeal Anti-Itch Shampoo & Conditioner in one. This USA-made product is an anti-bacterial and anti-fungal shampoo that also helps to moisturize your dog's skin.
Besides this, the oatmeal cookie scent is amazing and will make your Jack Russell Terrier even more snuggly than they already are.
Arm & Hammer Super Deodorizing Dog Shampoo 
Or maybe your Jack Russell Terrier has more of a tendency to run away and roll in dubious foul-smelling substances as many JRTs do? If this is the case, Arm & Hammer's super deodorizing shampoo for dogs is ideal.
The baking soda in Arm & Hammer's shampoo will help to expertly strip absolutely all traces of the odor away, while the honey, rose, kiwi and white tea extract will replace the previous odor with a much more pleasant and mild scent.
Arm & Hammer even say that their shampoo should help somewhat to reduce shedding in your Jack Russell Terrier. So, next time your Jack Russell rolls in anything, reach for this shampoo.
Dog Shampoo with Oatmeal and Aloe
This dog shampoo with oatmeal and aloe by Oliver's Choice has several benefits for your Jack Russell Terrier.
Its shea butter, aloe, and oatmeal greatly help to moisturize your Jack Russell Terrier's skin, while the oatmeal also helps to relieve your Jack Russell Terrier's itchy skin.
Furthermore, the aloe vera Oliver's Choice uses in their shampoo also helps with cleansing your Jack Russell Terrier's fur and skin, getting rid of bacteria and other dirt.
And of course, all these ingredients combine to leave your Jack Russell Terrier smelling like an oatmeal cookie, according to one owner.
Burt's Bees for Dogs Natural Skin Soothing Shampoo with Honey
And not just for humans, the well-known brand Burt's Bees also makes great products for your Jack Russell Terrier as well.
Burt's Bees shampoo for dogs contains avocado, to moisturize and condition your Jack Russell Terrier's skin and fur.
Burt's Bees dog shampoo also contains oatmeal, to soothe your Jack Russell's dandruff or itchy fur.
As well as these great natural ingredients, Burt's bee's dog shampoo also has honey, of course. This helps to moisturize your Jack Russell Terrier's skin and fur too, as well as leaving your Jack Russell smelling wonderful after every bath.
As with all Burt's Bees products, this shampoo for pooches is as natural as it can be.
Buddy's Best, Natural Dog Shampoo and Conditioner in One
Buddy's Best is your basic dog shampoo that covers all bases. The soap Buddy's Best use is hypoallergenic, so it will not interfere with your Jack Russell Terrier's skin.
But if your Jack Russell Terrier does have itchy or sensitive skin, the oatmeal Buddy's Best uses should help with this problem.
Not only this, your Jack Russell Terrier should smell great after being bathed with this doggy shampoo, since it's available in two different but equally delicious flavors – Coconut Vanilla Bean and Ripe Melon.
Plus, Buddy's Best dog shampoo only comes in large, luxurious 16 or 32OZ bottles that will make you and your Jack Russell Terrier feel like they are getting a proper salon experience. As well as this, you will not have to keep running to the store this way.
Please take a look at the other dog product I have written on below